The first time Joe had COVID, many suspected he was a lot sicker than they portrayed him to be. But then suddenly they tested him and said he was "COVID free" and off he went. But he was hardly "back at it" for a day or so before he was quickly rushed back into isolation after he tested positive once again for COVID. Did they rush Joe out because so many people were raising questions about his condition, the conflicting information, and the strange "COVID pictures" they were releasing? And once he was back at it, he got sicker, and he needed rest, so they said he tested positive for COVID again? I mean, it's not crazy to think that. Honestly, I think believing whatever these liars say at face value is the nutty thing to do… because here we are again — Joe Biden has COVID and everyone is asking questions about his health, and we're getting bizarre responses again, and things that don't "add up."
This time, Karine Jean-Pierre announced Joe has "lingering symptoms."
What does that even mean? Nobody knows… But it gets weirder.
Watch:
Karine Jean-Pierre confirms Biden is experiencing "lingering symptoms" from COVID.

Biden's personal physician said NOTHING about "lingering symptoms" in his letter this morning. pic.twitter.com/5K1uHgpvZw

— RNC Research (@RNCResearch) August 1, 2022
Joe's White House doctor put out a statement about his current situation and said absolutely nothing about "lingering symptoms." His doctor claims that Joe is "feeling well" with no mention of any other symptoms or problems.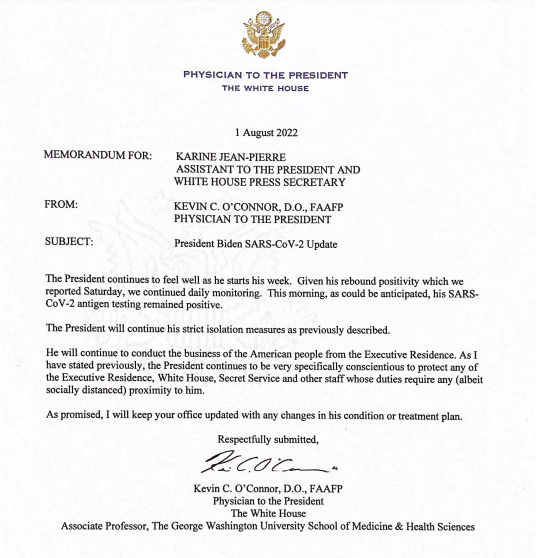 Why did KJP call this out "lingering symptoms," specifically?
And why isn't Joe's doctor speaking to the American people and the press? Once again, thanks to the confusion and lack of transparency from this clown show admin, we're left wondering what's going on and having to fill in the blanks ourselves. This is how and why conspiracy theories start, and it's not the people's fault, it's Team Joe's fault. They're never straight up with anybody.
I guess we'll just have to see how this bout of COVID plays out… and speaking of that…
I saw this tweet from Human Events editor Jack Posobiec and I thought it was perfect.
Here's what he said: "I wish Joe Biden a speedy recovery from Covid And I wish America a speedy recovery from Joe Biden"
I wish Joe Biden a speedy recovery from Covid

And I wish America a speedy recovery from Joe Biden

— Jack Posobiec 🇺🇸 (@JackPosobiec) July 30, 2022
COVID has a 99 percent survival rate. I wonder what the survival rate is for a Joe Biden fake presidency?
The opinions expressed by contributors and/or content partners are their own and do not necessarily reflect the views of WayneDupree.com
---
---
One of the most dependable websites for original reporting, investigative reporting, and breaking news in the conservative media is now WayneDupree.com. It is the only group combating communist bias in the media and entertainment, and it is its hard news division.
Because the success of our objective is so important to the economy and because leftist media's COVID falsehoods probably cost lives, we need your help. Donate to WayneDupree.com today so that we can keep covering stories that the leftist media won't touch. Your decision to donate $5 per month, $50 per year, or $100 per year will enable us to continue the difficult work of making sure a free and fair media survives in our nation.
[The WDStaff]
SIGN UP HERE and join us!
---
Follow Wayne on Rumble!