If I was Eric Swalwell's wife, I'd have left this bum a long time ago. Between the Chinese spy he had an affair with, and now, this photo, showing him "chatting it up" with two very scantily dressed young women, who look like they've just walked out of a club, or a brothel, he'd be history. I mean, what's keeping her there? Certainly, it's not his stunning good looks, brilliant mind, or political aspirations, that's for sure. Remember his 2020 "presidential run?" I think the best word to describe that was "embarrassing." And speaking of that word, this latest photo comes from Human Events editor Jack Posobeic, who says that he got the image from one of his sources in DC.
The photo shows a very happy-looking Eric, engaging two very "sexy" women, in very short skirts, who do not look like constituents. Eric appears to be trying to look very "suave" as he stands there with one leg kicked out, and his hands on his hips, with his jacket wide open. The body language is clear as day… Eric is having a "fang fang" moment.
Here's what Jack said: "I have obtained a candid photo of Congressman @ericswalwell out on the street today from a contact in DC"
I have obtained a candid photo of Congressman @ericswalwell out on the street today from a contact in DC pic.twitter.com/lt5wAv6Drp

— Jack Posobiec 🇺🇸 (@JackPosobiec) July 28, 2022
Here's a closeup of the picture: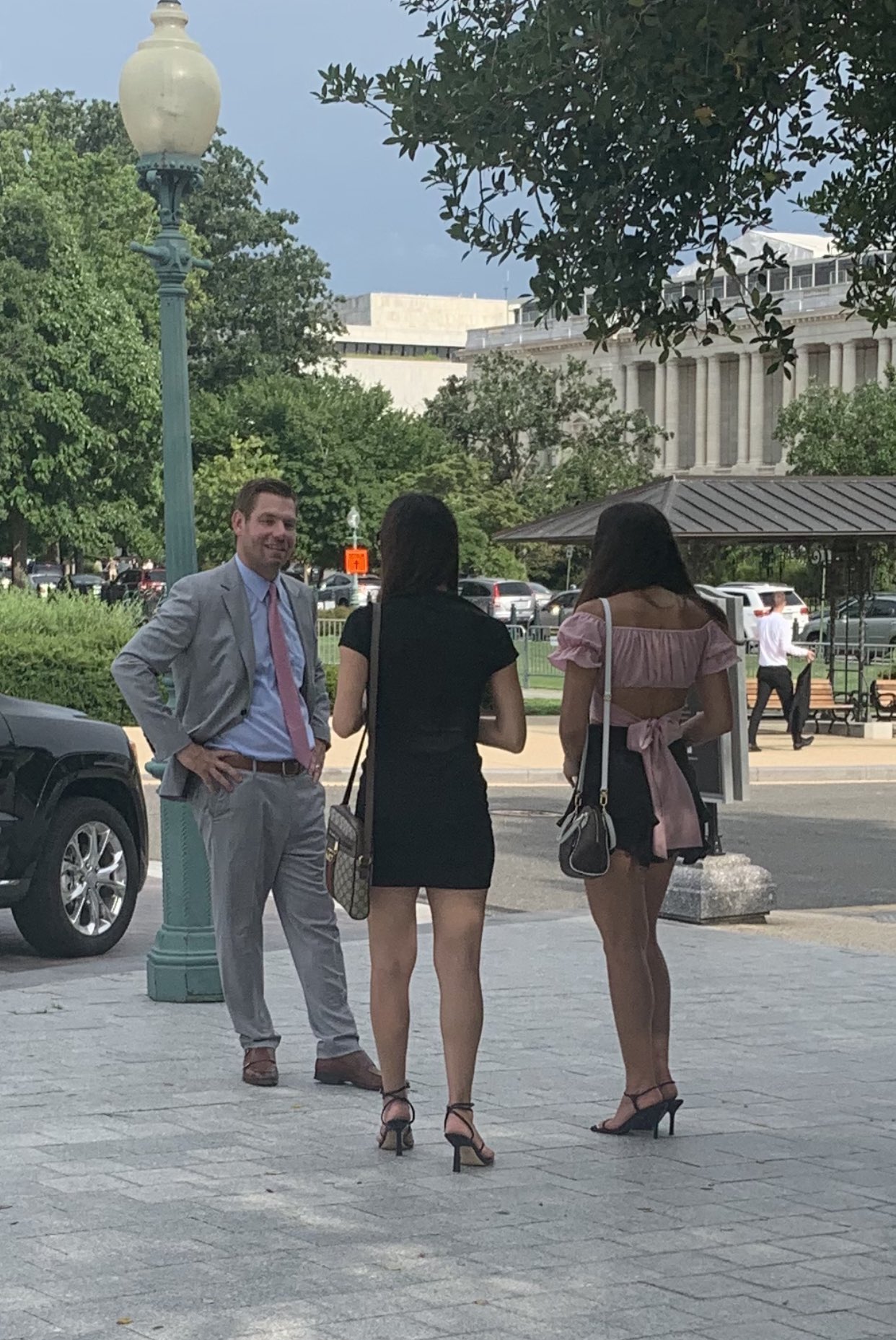 But there's a twist to this story.
Now, we're hearing from Jack Posobiec, that these two sexy ladies may be Project Veritas operatives who set up Swalwell. Wouldn't that be a fun plot twist???
As you can imagine, people had a lot to say about this photo:
"Ole Eric can't seem to be a decent married man, can he?"

"Hmmm. what kind of proposition do we have here"

"Nothing to see here. Just a Congressman having an open-air interview with some… enterprising young women."

"he has a weakness for them and the Chinese have a thing for him It's called information information"

"Me love you long time just like Fang Fang""

"One must assume Swalwell is standing on his corner and those two hotties approached him to discuss the weather."

"Look at that open & inviting body language… He misses Fang Fang!"

"Mrs. Swalwell isn't going to like this" 

"As I've said before, the day to day life of a politician would suck. People who want to be politicians mostly want to be them because it gives them access to the things rich people have without having to actually accomplish anything."

"Swalwell looks like the dude that would slip the date rape drug in your food and drink"

"I asked my 15 year old son "do you recognize who this is??" & he said "some married perv trying to pick up two college chicks".
I don't know what the real deal is with this photo, but I hope it was Project Veritas, and if it was, grab your popcorn, because that'll be some good fun.
The opinions expressed by contributors and/or content partners are their own and do not necessarily reflect the views of WayneDupree.com
---
---
One of the most dependable websites for original reporting, investigative reporting, and breaking news in the conservative media is now WayneDupree.com. It is the only group combating communist bias in the media and entertainment, and it is its hard news division.
Because the success of our objective is so important to the economy and because leftist media's COVID falsehoods probably cost lives, we need your help. Donate to WayneDupree.com today so that we can keep covering stories that the leftist media won't touch. Your decision to donate $5 per month, $50 per year, or $100 per year will enable us to continue the difficult work of making sure a free and fair media survives in our nation.
[The WDStaff]
SIGN UP HERE and join us!
---
Follow Wayne on Rumble!