OPINION: This article contains commentary which reflects the author's opinion
The 13 Americans who were killed thanks to Joe Biden's negligence, ineptitude, and poor decisions, came back home.
The Dignified Transfer took place on Sunday at Dover Airforce Base.
Joe Biden was in attendance, even though sources say some of the families didn't want him there…you can't blame them.
Of course, Joe doesn't care what the American people want – if that was the case he would have resigned by now for his catastrophic botching of the entire Afghanistan withdrawal.
Joe's polls numbers are sinking faster than the Titanic – especially everyone found out that his drone strike killed a family of 9, including 6 children, 3 of them "toddlers."
Needless to say, the American people have seen enough, and they've lost complete faith in Bumbling Joe Biden.
Yet, even so, there he and his wife were at the Dignified Transfer – but something odd happened during the ceremony, that hasn't gotten much attention…
Someone appears to have collapsed and was quickly "carried" away by a group of people.
It happened on live TV.
You can watch the video below:
Huh! pic.twitter.com/ilbR1IHaEQ

— 😠😠 V P'ed Off! 😠😠 (@AnnaStolarska9) August 29, 2021
Fox News host claimed it was possibly an upset Pentagon official who fainted?
But I can't find anything that backs that up. I can't find anything about it at all, as a matter of fact.
People online are convinced it was a female who collapsed due to the shoes in the grainy image below.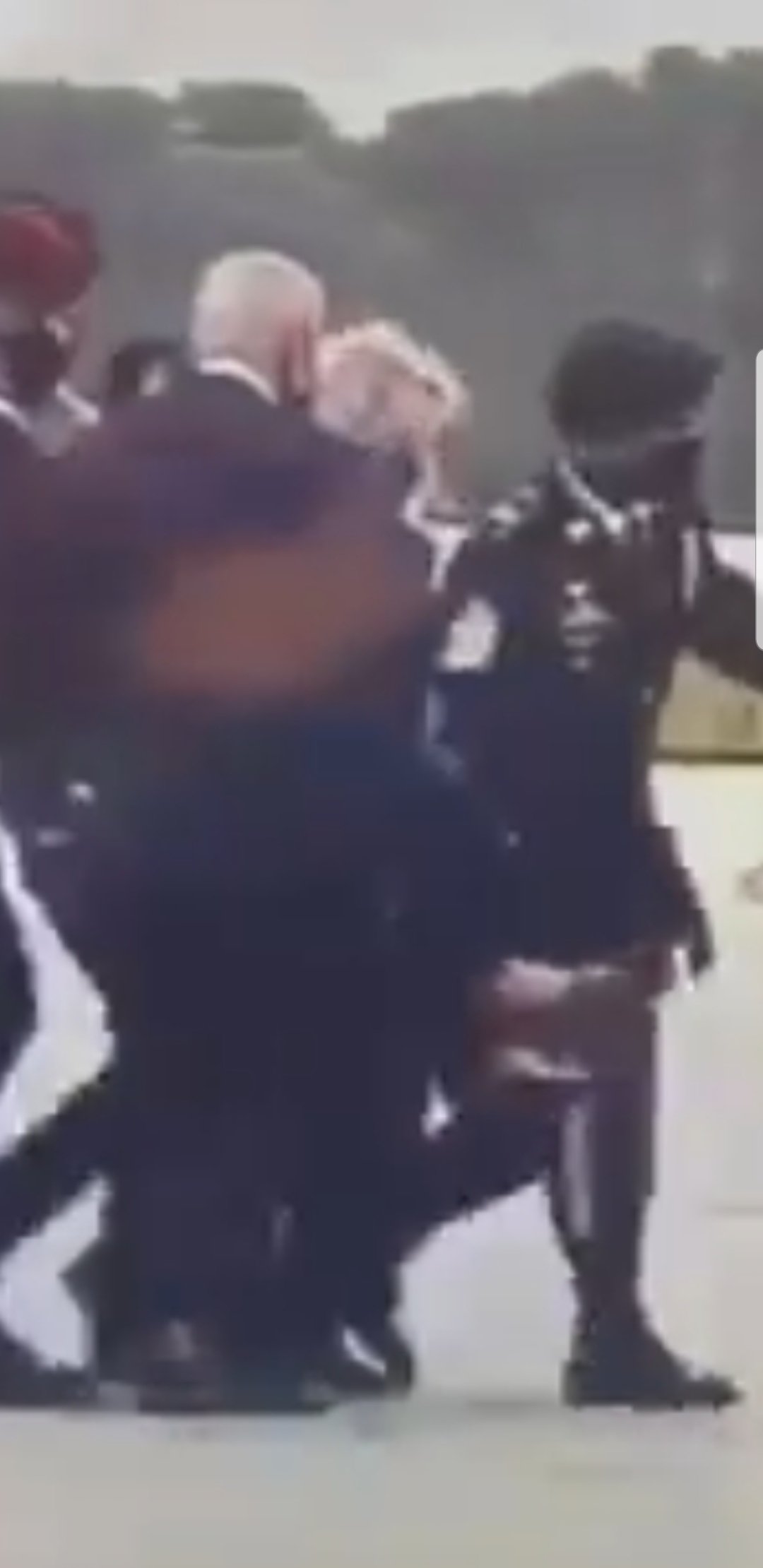 Odd right? I am sure this will spark some rumors.
Most people believe that it was either a grieving mother or the woman who was standing behind Jill Biden.
Here's what people online are saying about this clip:
"Distraught mother trying to attack Biden, knocked out by the Secret Service?"
"a mother overcome with grief and had to be assisted away?"
"Why does everything with this administration feel weird and off?"
"The woman who was standing behind Jill is gone in other frames of this video so I think maybe it was her" 
"This is what happens when you lock your knees at attention for a long period of time, you pass out, happens all the time in long formations."
"If one of those boxes held my child, I'd probably collapse too. Not saying it was that, but maybe a possibility."
"Just another covid "vaxx" recipient"
"That's America being carried off" 
"They said one of the generals, he became so overwhelmed with emotion he fainted. but that doesn't look like a man" 
"I'll tell you what, this is the strangest presidency I've ever witnessed in my life. It's like the Truman Show." 
Personally, I think it was the lady behind Jill.
She was probably overcome with emotion – I know I would be if I saw all those caskets and felt the grief and hurt from all of those families.
Either way, I will also agree with the folks that said everything that goes on and around this admin feels very "weird" and phony.
Something is always "off" with Team Biden…always.
Article Source : WayneDupree.com